Big Ten Academic Alliance Library Initiatives Announces Karla Strieb as Visiting Program Officer for Shared Collections
Dec 8, 2022, 14:37 PM
The Big Ten Academic Alliance Library Initiatives announces Kara Strieb will the Visiting Program Officer for Shared Collections as part of a generous commitment from The Ohio State University Libraries effort to the Big Collection.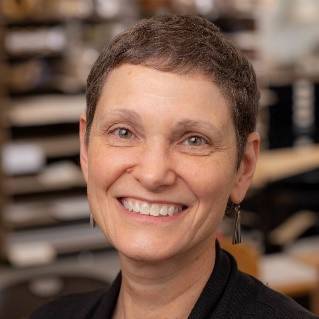 The Big Ten Academic Alliance is excited to announce that the Ohio State University Libraries have made a generous commitment of effort to the Big Collection in the form of a three-year program officer to provide leadership in developing and proposing models for collaborative collection development and co-investment toward the ideal of uniting the individual collections of the Big Ten into one collection, shared and fully networked.
Karla Strieb will serve in this capacity as Visiting Program Officer for Shared Collections, beginning January 3rd. Karla will engage and partner with key stakeholders across institutions to develop recommendations for shared policy and agreements to govern the "Big Ten Shared Collection," including modeling co-investment strategy, structure, and appropriate scale for collective collections; developing distributed models for shared collection development; developing common principles to underpin development of collaborative collections; and facilitating alignment and partnership between the Big Ten Academic Alliance and partner organizations and initiatives that are fostering community co-investment in collective collections.
Karla will encourage, develop, and advance projects and pilots that investigate the opportunities as well as the stumbling blocks to the goal of a true BTAA shared collection (universally available, discoverable, and usable). The focus of this role is to strengthen the Big Ten's capacity to co-invest in developing and stewarding content collections, toward the first mile marker of the Big Collection: "Any content, from anywhere, to anyone across the Big Ten….now and into the future."
Karla is a seasoned and respected leader in the collections and scholarly communications spaces, with an extensive record of service to HathiTrust, the Center for Research Libraries, and the Association of Research Libraries (ARL), among many others. In her current role, Karla has supported students, faculty and researchers through strategic collection growth and advocacy for the transformation of scholarly publishing as she has worked to steadily improve access to collections and address inequities within them. Her work with ARL, OCLC, OhioLINK, BTAA and HathiTrust has been important in positioning The Ohio State University Libraries as a top research library among its peers.
Karla will be the third Visiting Program Officer for the Big Collection, joining Kate McCready, VPO for Academy-Owned Publishing, and Krisellen Maloney, VPO for Trusted Infrastructure Services.
Karla brings invaluable perspective, expertise, knowledge, and energy to this vital role. We're thrilled to welcome her to the team and excited as we look forward to the crucial areas of research and activity that she will help bring into focus and move forward.